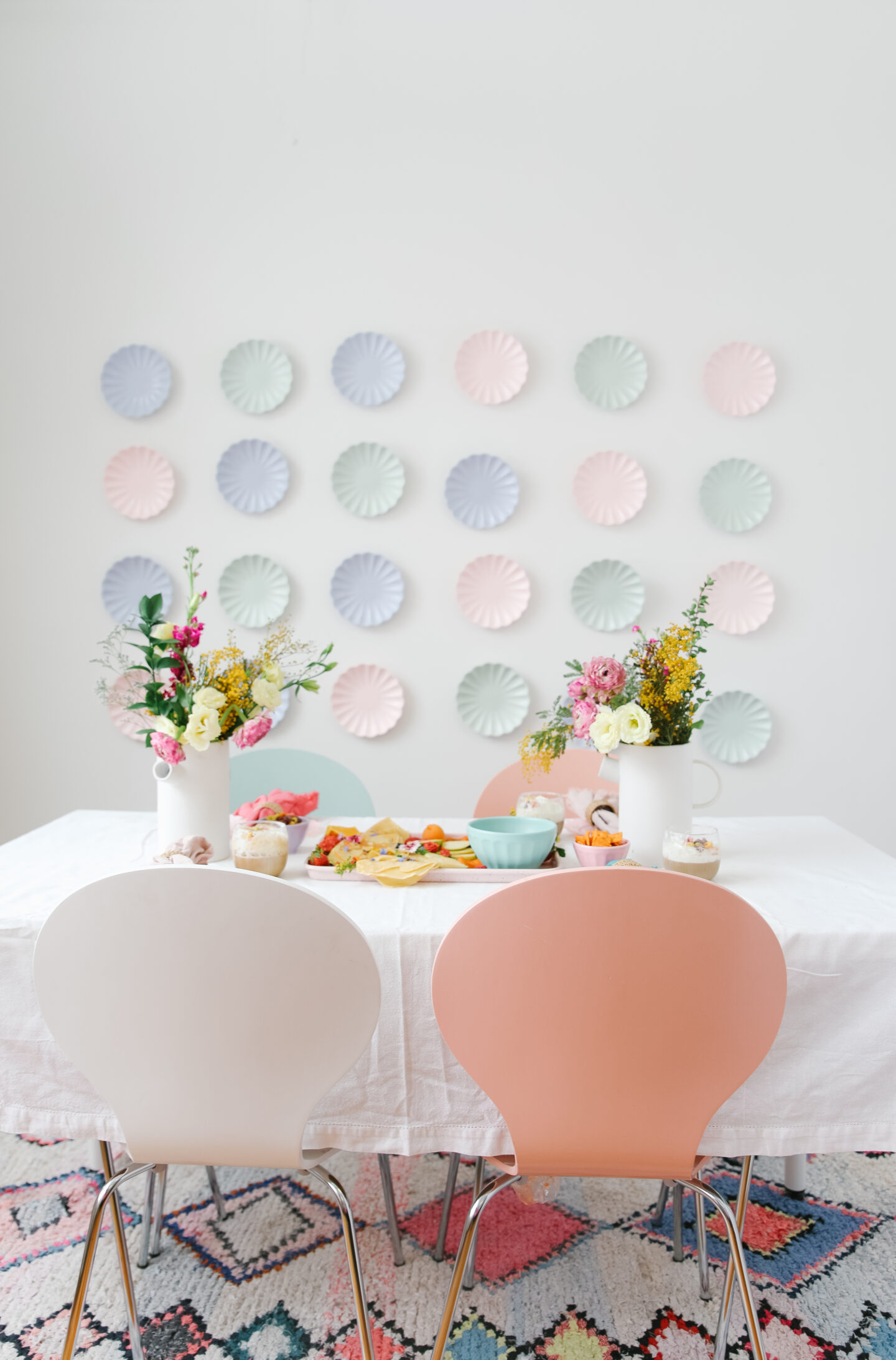 Calling all my ladies! It's Galentine's Day and we need to celebrate it together, right? There's absolutely nothing I love more than a pink, chocolate overload and ultra cute celebration like Galentine's (the super cute Valentine's Day sister).
… and honestly, if you ask me, the best way to cheer my girls up, is with a very special brunch menu, because there's no party without a fabulous spread, so today's post is an ode on how to host the ultimate Galentine's Day brunch party!
For our pastel Galentine's Brunch party, we loved finding fresh ranunculus (my favourite flower), edible flowers and tons of cute fruit loops and whipping cream, serving the sweetest cappuccinos for ma' ladies!
We kept the decor with a very minimal tableescape (the way I loveeee it). In my imaginary decor book, it's totally acceptable to have blooms and food as the center of your table accents, without being so "extra".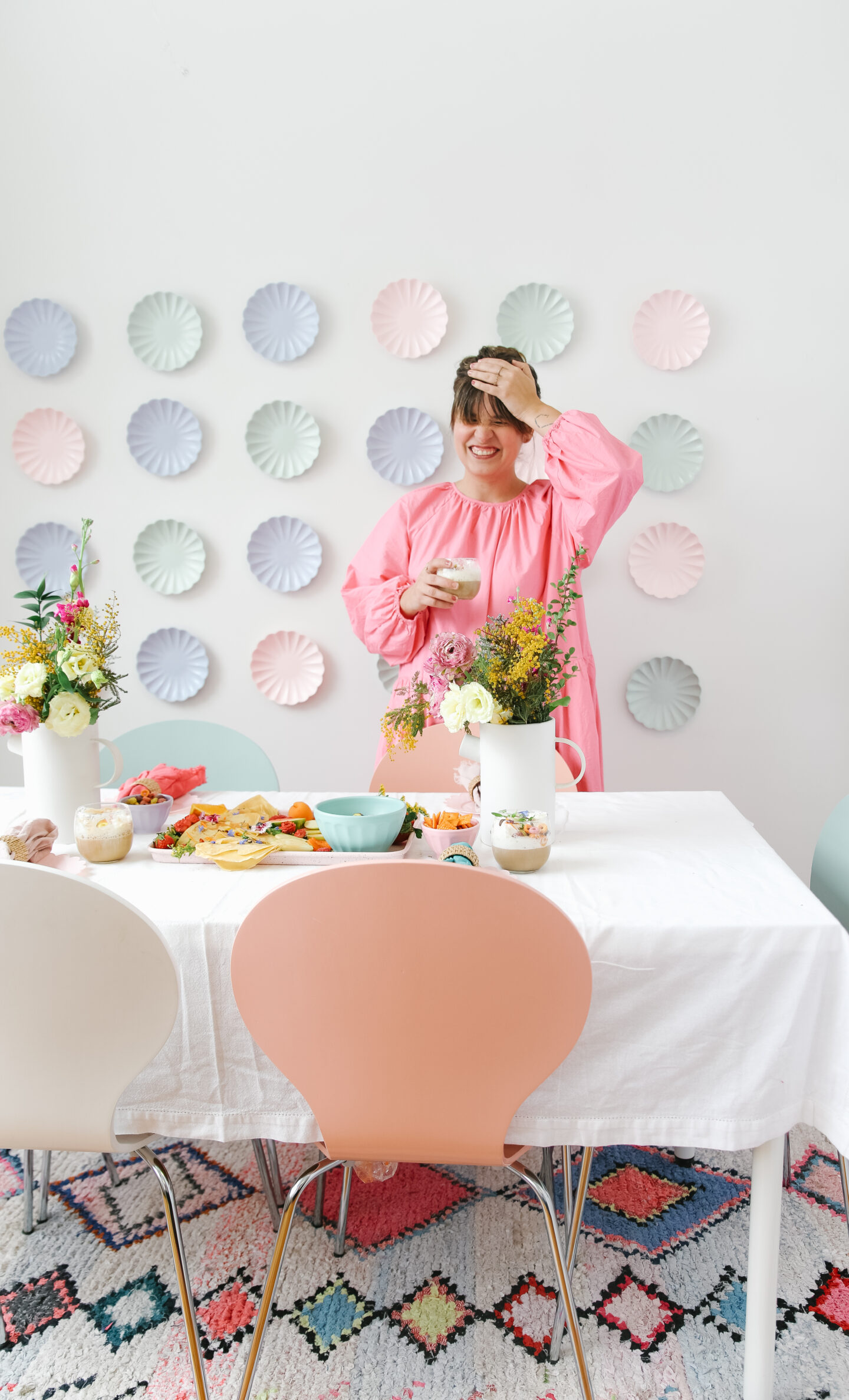 *heart eyes emoji* to this excited mama, who had SO much fun setting everything up, from the florals, fruit plate, homemade crepes, chocolate hummus, and the adorable backdrop of pastel plates. (we found them at our favourite local shop, Boucle et Papier).
Setting up pretty tables has been a family tradition since little, and something I adored doing growing up with my mama. After all these years, moving to a different country, I kept all my traditions and I still LOVE doing this.
Remember our Spring easter brunch tablescape?
Loved adding a special girly touch to our oat cappuccinos, a bit of whipped cream (seriously, the best) edible flowers and fruit loops!
Flowers are like having your besties by your side, they bring so much colour and joy to our world, am I right?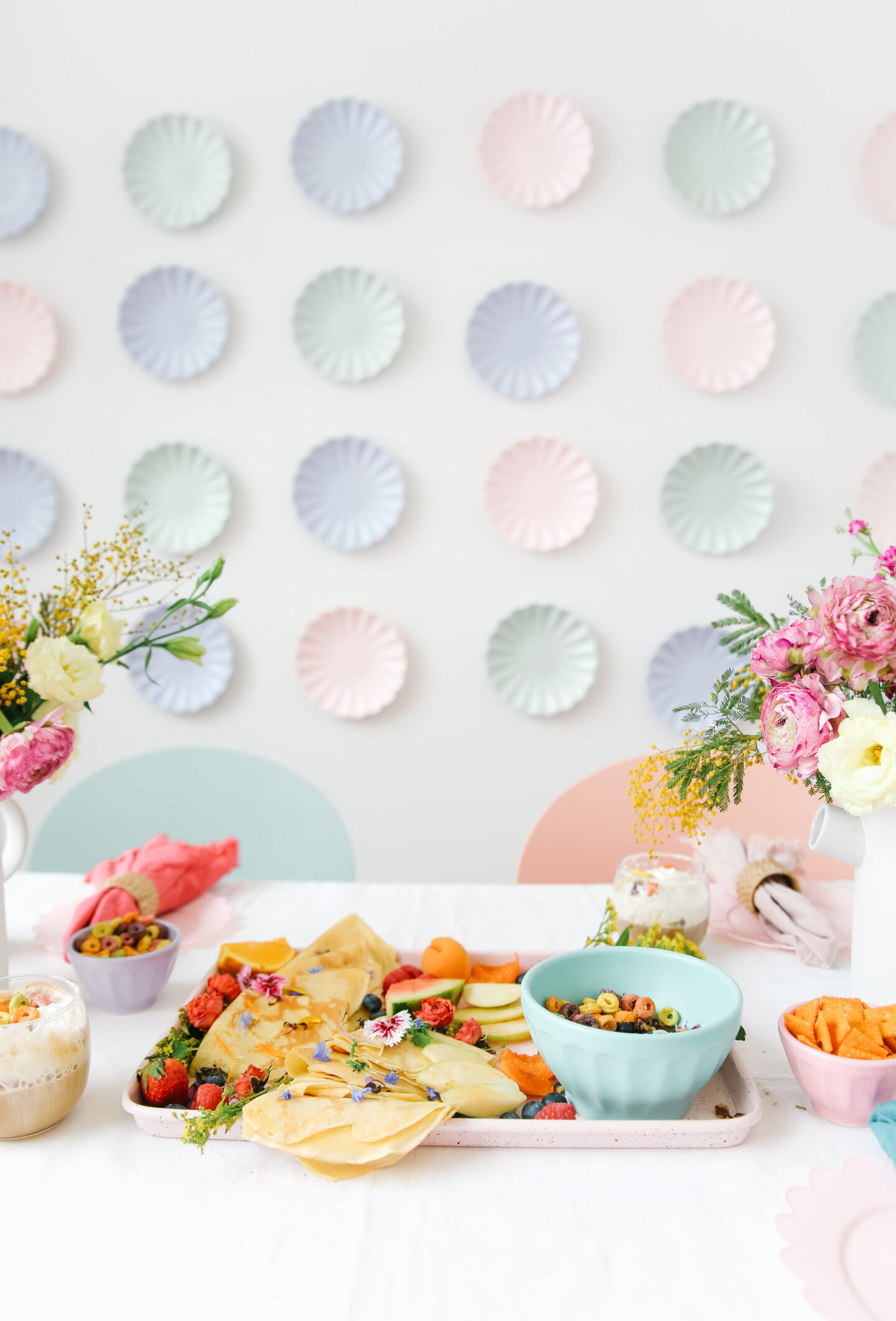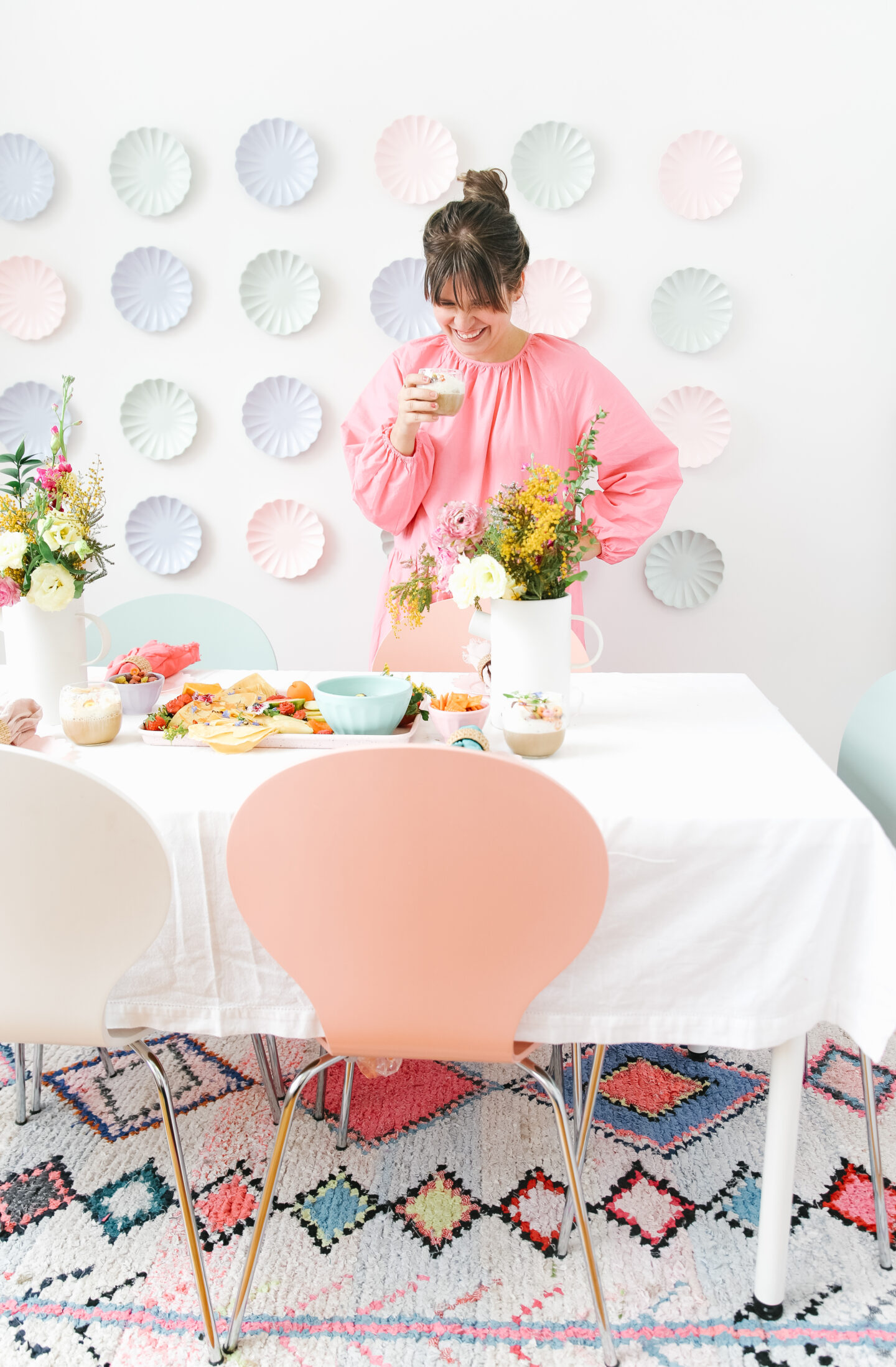 The menu
I really wanted to create a stress-free, delightfully visual and fun experience for my girlfriends where everything is happy, pink and a pastel celebration with a very special and delicious menu, including:
– Fresh fruits, watermelon, berries, peaches, pears, apples, apricots.
– colourful cereal plates
– crepes, served with butter (salty edition) or hummus chocolate (sweet edition). If you want to cook them at home as well, this one is the best recipe, by master Ricardo!
– Chocolate hummus (a super healthy option with plant-based ingredients).
– Pink lemonade and unicorn cappuccinos! (here for it!)
Thin crepes recipe (a la Ricardo)
Ingredients
2 tbsp sugar
1 pinch salt
2 eggs
1 1/2 cups milk
1/2 tbsp vanilla extract
1 tbsp unsalted butter, melted
butter for cooking
How-to:
In a bowl, combine the flour, sugar and salt. Whisk in the eggs, ½ cup (125 ml) of milk and the vanilla until smooth. Gradually add the remaining milk, stirring constantly. Whisk in the melted butter.
Heat a 9-inch (23 cm) non-stick skillet over medium heat. When the skillet is hot, brush with a little softened butter.
For each crepe, pour about 3 tbsp (45 ml) of batter in the centre of the skillet. Tilt the skillet to spread the batter evenly until it covers the bottom of the skillet. When the edge peels off easily and begins to brown, it's time to flip the crepe with a spatula. Continue cooking for 10 seconds, until cooked through, and remove from the skillet.