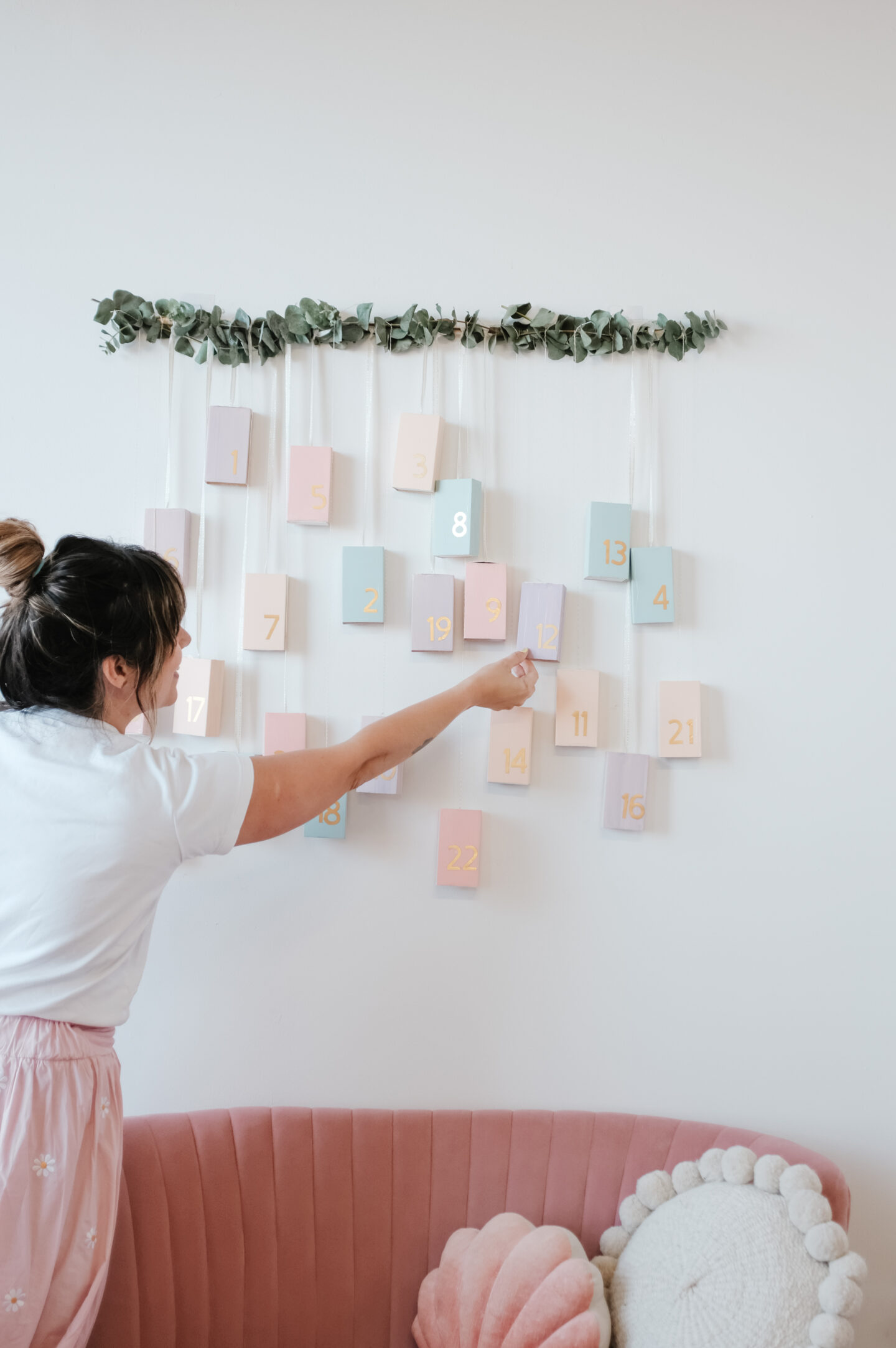 In only TWO weeks we will say AT LAST YOU'RE HERE to the merriest month of the year! To do a proper and cute welcome, we DIY'ed an adorable advent calendar that will make (without a doubt) your holiday decor shine so so bright.
I looove using very different colour schemes from the typical ones we are used to (because who says the holidays should be only red and white, right?). This advent calendar is made from just a few materials and the main star is recycled match boxes, creating a sustainable and unique idea.
So proud to partner with DeSerres (my second home for allll our DIY & art supplies) to bring this project to life, with very inexpensive crafting materials, and with little steps that will add a splash of happy colours to your decor. Read on for our detailed tutorial, deal?
Materials Required:
Assorted acrylic paint (in your preferred colour scheme)
Paint brushes
Natural eucalyptus
Fabric ribbon
Round wooden dowel
Gold matte vinyl
Cricut machine
Gold floral wire
Hole punch
Scissors
Step one: let's organize the match boxes
Start with the match boxes by adding a white base coat. I used a matte spray paint and let it dry for a few hours.
Step two: Splash all the colour!
Once your boxes are completely dry, let's add all the colour! I picked 4 different tones and painted the 24 match boxes (6 of each colour). Add two coats, and let it dry.
Step tHREE: cut the numbers
I picked a beautiful matte gold vinyl and using our Cricut machine I cut our 24 days of Christmas. You can make this process manually using your scissors, drawing your numbers and cutting them directly on the vinyl.
Step four: Set up all your christmas days
Using transfer tape, add each vinyl number and paste it to the painted match boxes. Repeat the process until you finish sticking the 24 days/boxes.
Step four: Add the ribbon
Now let's finish our boxes opening a little hole using a hole punch and passing through your favourite fabric ribbon on the top side of each match box. Make a knot and play with different ribbon lengths for the different days.
Step five: set up the dowel and hang!
I picked fresh natural eucalyptus to decorate our wooden dowel. Wrap the dowel using the gold floral wire cutting eucalyptus bunches of approx. 10 inches long each. Repeat until you cover the entire dowel. Right after you finish covering the dowel, knot all the boxes and hang to the wall.