Yes yes you guys! We are almost there (this could be eeeasily a please pinch me moment, all over again). Since we started planning the first capsule collection, I've been feeling fascinated how we are bringing something real, tangible, to life.
As a lover of all things beautiful, a professional collector of adorable stationary and little things, shooting this week all our products for our shop was kinda floating on a never ending cloud nine.
Remember our inspiration moodboards I posted a few weeks ago here?
Today, I'll show you our first preview and some extra details of the shop.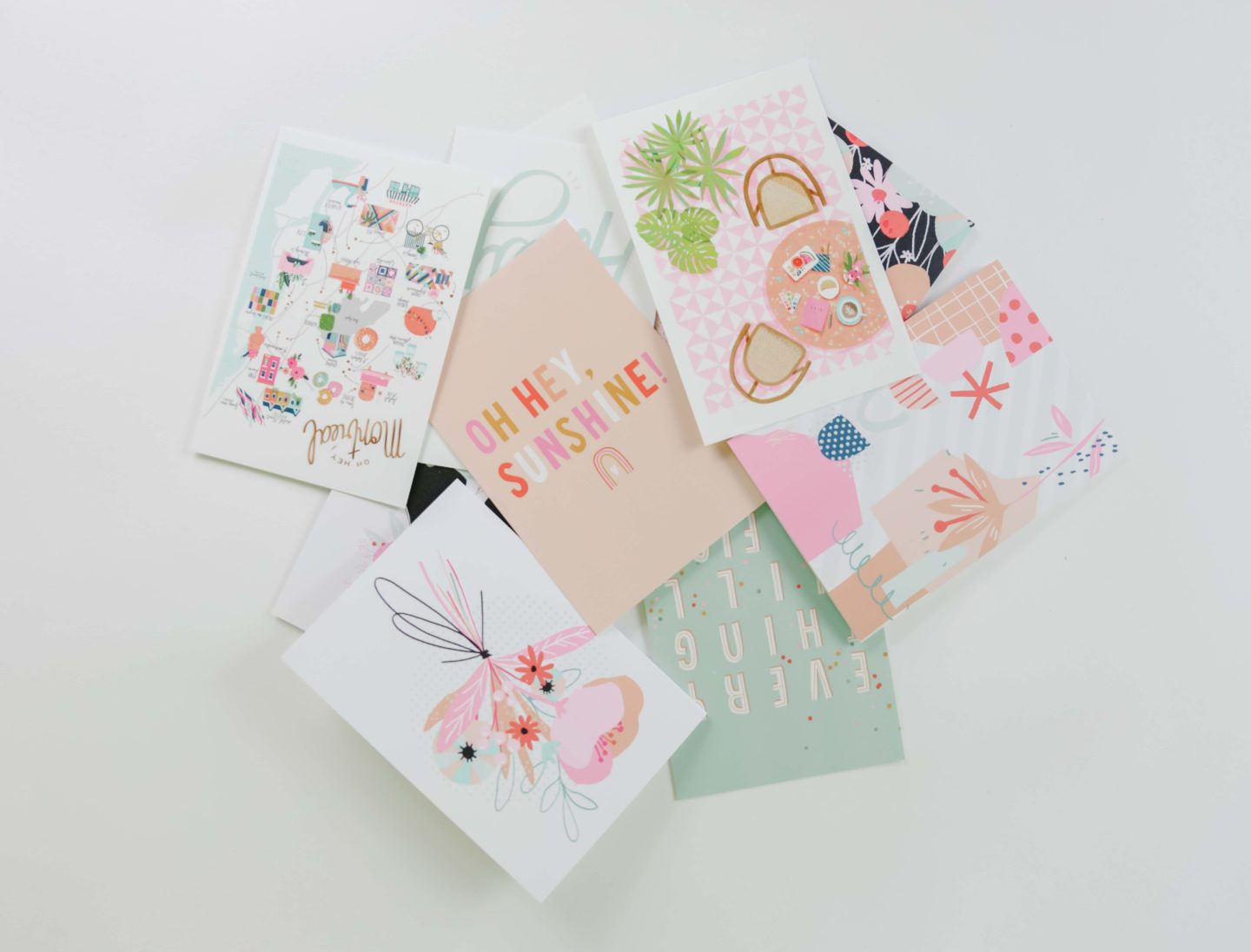 How did you create this line?
I always wanted to create and have a product line since I started the blog, and finding the perfect (okay let me rephrase that) THE PERFECT partner to do it was essential. I didn't want to resell something that already exists, but to create our little cute universe and design them. I met Lucile on Instagram and it was instant love. We think, dress, and have the same aesthetic (Lucile as an illustration magician & Maca as an Interior Designer/Brand Strategist, it's honestly like a winning duo, because we compliment our forces perfectly). One day, maybe having coffee as we always do, we dreamed and talked of starting our product line and here we are! almost there!
What about the process? what's the hardest part?
Hardest part? (SO MANY!) but I'll start with: to dream something and ACTUALLY do it, make it happen. Creating a brand from scratch is hard and a very complicated process. In this particular case of the HeyMaca shop I think it was a bit easier. Last year, I worked on a full rebranding, creating a brand identity manual, colour palette, fonts and much more. The challenge here was only bringing to life our style with a solid branding that was an extension of the blog and our "digital life".
Where do you get fresh new ideas?
We are both super visual and we collect little things in real life and in our digital life (jokes but it's real, you have to see our desks full of books, flyers, stikers, metro tickets, cups, anything!). I get inspired in so many ways when I travel, visit little shops, restaurants, hotel lobbies, concept stores, and buy things that will bring back sweet memories. Also, using the right patterns, shapes, colour combinations and fonts (especially as a branding and packaging lover), you'll create a solid identity and eventually a product line that will work together seamless.
AFTER YOU GET MANY IDEAS, HOW TO ORGANIZE THEM?
Pretty much by doing a list of many many things:
– Create a moodboard. We did it using a secret Pinterest board and pinned anything that sparked us joy. When I say anything, it's literally things from a cupcake, a wall, a sticker, a cloth label or a washi tape pattern.
– Know who your audience is and think how they'll use your product. Is it useful for them?
– Tailor your ideas and create a list of all the products you'd love to produce. Search specific ideas.
– Start compiling your first patterns and pair them with possible products, you'll see the magic happens!

What are the essential tools you need to use to create a brand?
– Google docs: create a super organized spreadsheet with: Expenses – Suppliers – Inventory.
– Asana: my favourite part! a dedicated (and free) project management tool where we organized all the tasks and even selected who's in charge. you can track every-single-thing-here.
– Social media: Of course (it's part of my actual work). We both posted stories of our behind-the-scenes, did polls asking what they would love to see in the shop, and Lucile shared a few drawings that inspired us to create everything.
– Lightroom, Photoshop, After Effects: Our favourite editing tools where we edit ALL our photos, animations and stop motions.

Any tips if I want to create a product line?
YES!
– Define a budget together if you are your own investor (we did it as soon as we decided to design and plan products).
– Be patient: finding suppliers will be the hardest task. Some of them will send you wrong samples, they will take more time than planned, so think of unexpected situations and breathe.
– You'll learn every single day. and this makes it ALL worth it.
– Organize your days: photoshoot days, upload content on shop days, moodboard and inspiration days for product development, and techy days for all things conversion rates, estimated sales, expenses.
we-cannot-wait-to-show-you:
EVERYTHING.
xoxo,
Maca